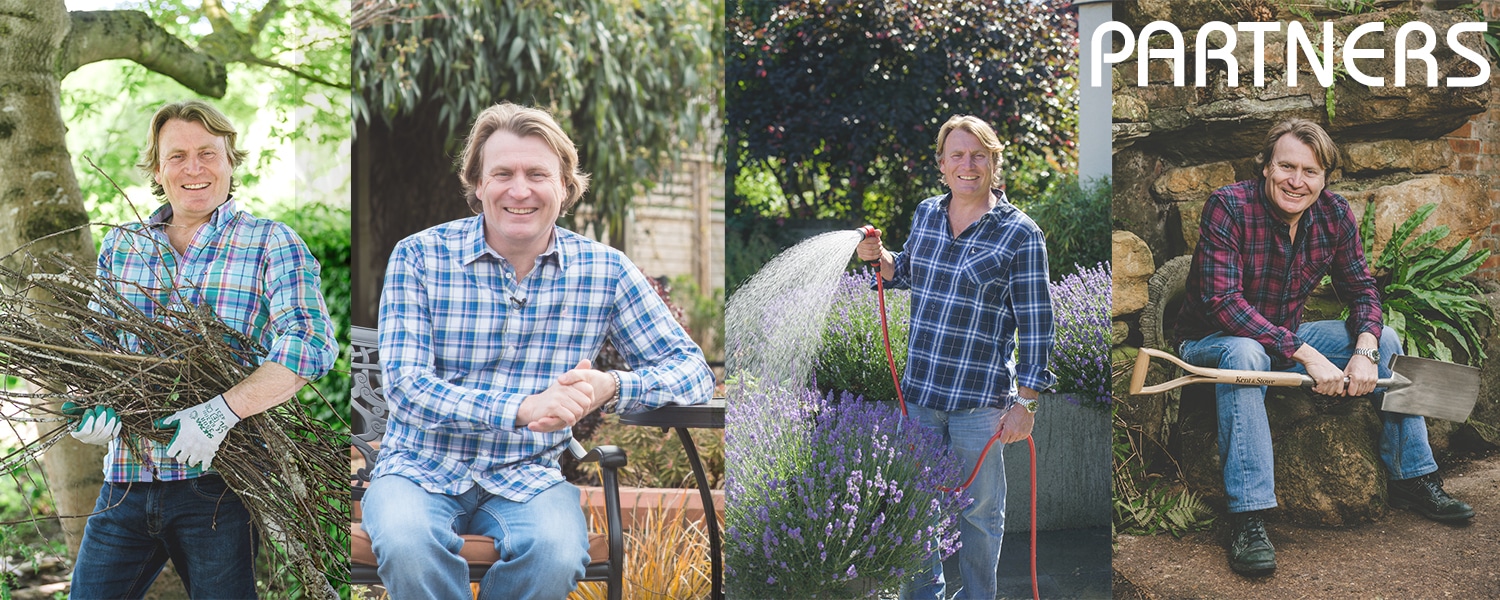 David's Partners
Over the last twenty years, I've had the pleasure of working alongside quality brands and exceptional home and garden specialists. Championed for their high-quality products, this elite group of brands were selected to help your efforts towards home enhancement; giving everybody a chance to spark a lifelong enthusiasm for gardening and to create attractive, sustainable and inviting green spaces.
Pavestone
Pavestone's high-quality patio and garden finishings have become increasingly popular for green-fingered aficionados. Inspired by the world's finest natural stone, working with their timeless and durable products is effortless and these fantastic features lend themselves to inspiring my new ideas for plentiful patio planting and daring design concepts on the brand's official website.
Hartman
Specialising in the creation of elegant, yet practical, garden furniture, Hartman's product range encouraged my own nature-inspired 'Celtic' range—decorated with twisting vines to evoke the beauty and majesty of the garden. There's nothing quite like sitting back and drinking in the sights, scents and sounds of the garden you've tended to and having a somewhere to do so makes all the difference.
YoYo by FITT
The award-winning YOYO hose brings a superior quality, extendable, anti-kink hosepipe to the home gardener. This garden must-have makes life so much easier—so imagining up ways in which eager gardeners can get the most of their green spaces is a breeze. By having this remarkable invention in your tool kit, you can mould a space for making marvellous garden moments.
KENT & STOWE
Kent & Stowe's high-end gardening tools combine the beauty of a traditional aesthetic with the strength and robustness of modern design; they're a complete joy to work with. Whether at home, on the job, or when making videos for the Kent & Stowe website, their wide range helps to demonstrate which tools are best for which job—which I've coupled with prize giveaways so that lucky winners can try it for themselves.
Website link : www.kentandstowe.com
Globus Group
Designed with people in mind, Globus Group's extensive range of award-winning gloves protect hands so that you can garden safe in the knowledge that they have you covered. By joining forces, I'm de-mystifying gardening gloves with a range that is diverse, pioneering and practical; providing industry-level assurance alongside take-home advice on using them in your own garden.
Sunday Mirror
The Sunday Mirror ranks as one of the UK's top 10 newspapers and through my gardening column I wanted to encourage more people to get gardening. Each week I deliver practiced advice for real-world application; connecting with thousands of fellow gardening enthusiasts, answering burning questions, offering practical advice on everything from seed sowing to tree pruning, and highlighting important gardening topics of the moment.
Grow Your Own
As the UK's leading publication for expert gardening advice, my partnership with Grow Your Own magazine is led by pressing health questions that are in today's press. This specialist column focuses on how to grow for better health and I cover much-debated topics like organic gardening methods, growing foods for your microbiome and the best choices for superior nutrition—all put together from scientific studies I've digested into bite-sized guidance for gardeners.
Mr Fothergills
Mr. Fothergill's seeds grow highly-productive, robust and healthy crops and flowers to millions of home gardeners. My beginner-friendly seed range and accompanying free growing guide has been developed through this partnership in order to help millions of people to successfully grow their own; giving them access to nutritional homegrown veg and the numerous benefits and sense of accomplishment that comes with it.
Horticultural Trades Association
An organisation that is devoted to helping the UK gardening industry prosper, the HTA fund vital horticultural research, advise on government policy and put on gardening events for trade and consumer customers alike. So, working with the HTA as sponsors of the Cultivation Street campaign came as a natural pairing in our joint aim to get schools and communities growing together, better our UK green spaces and help gardening businesses thrive.