Feeling festive? Crack out that mixing bowl and don your Santa hats it's time to make some of my favourite Christmas iced biscuits! These biscuits are a real treat and I make them every year with my kids.
Not only do they taste spectacular, they are also like a miniature craft project in themselves. Decorate them to look like snowflakes or used coloured icing to paint a portrait of Rudolph or Santa himself and then hang them on the tree as decorations until you're ready to eat them (if you can wait, that is…!). If you make a double batch, you can also take them to family and friends as a beautiful gift wrapped up in cellophane and ribbons.
Ingredients
(Makes approximately 20 biscuits)
350g plain flour

1 teaspoon bicarbonate soda

5 1/2 teaspoons ground ginger

1 1/2 teaspoons ground cinnamon

175g light brown sugar

100g butter

4 tablespoons golden syrup

1 egg
To decorate
250g icing sugar
1 egg white
Food colouring, silver balls, edible glitter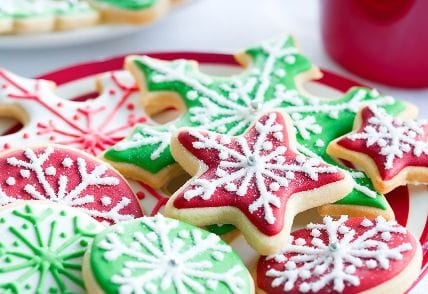 This recipe makes gorgeous, warming gingerbread biscuits that are perfect for munching around the fire on a cool December evening. Don't forget – you'll also need a rolling pin for rolling out the dough and some cutters for cutting out the biscuits. Our family favourites include snowflake and Christmas tree-shaped cutters decorated with colourful icing…!
Method
Preheat your oven to 180C.
Put the flour, ginger, cinnamon, bicarbonate of soda and butter in a mixing bowl and mix together to form breadcrumbs.
Add the sugar,golden syrup and egg and mix until it gathers together into a firm dough.
Lay out two sheets of greaseproof paper or baking parchment cut to the size of your baking trays. Halve the dough and roll each ball out directly onto the sheets until about half a centimetre thick.
Use your cutters to cut out your biscuit shapes and remove the excess dough from around the edges. Once gathered, you can roll the excess out and cut a few more biscuits to add to your baking paper. Rolling the dough and cutting it directly onto the paper in this way means you don't have to lift the cut out biscuits and risk breaking them as gingerbread dough can break quite easily, I find.
Place the sheets of baking paper with ready-cut biscuits onto baking trays.
Bake in your preheated oven until golden-brown. This usually takes about 15 minutes but they may be done sooner – keep a beady eye on them from around 10 minutes in the oven as gingerbread can catch if you're not careful and you don't want to ruin your hard work!
Remove from the oven and allow to cool on the baking tray for 5 minutes (this lets them harden off and stops you breaking them as you try to transfer them).
Transfer to a wire rack and poke a hole through the top of each biscuit with a skewer while they are still warm and a little on the soft side.
While you're waiting for the biscuits to cool, prepare the icing. Begin by whisking the egg white until it's frothy and stands in thick peaks.
Next, add the icing sugar a little at a time, whisking to incorporate thoroughly. This kind of icing goes hard as it sets giving a beautiful finish and meaning the icing isn't ruined if you want to package biscuits up for presents.
If you want different colours, now is the time to separate the icing into separate bowls and stir in different colours – family favourites of ours include green for Christmas trees, red for Rudolph's nose and white for glorious snowflakes. You could also try a golden yellow if you want your Christmas tree topped with a bright star. Don't take too long over this, though, or the icing will start to crust over. You can prevent it from drying out too quickly by popping a damp tea towel over the top of the bowl until you're ready to use it.
When the biscuits are cool, get decorating! Pop the icing in a piping bag or simply use teaspoons to decorate in any way you like. Don't forget to add that extra touch of sparkle with edible glitter for sparkling snowflakes and stars and silver balls for baubles on Christmas trees or bells on Santa's sleigh.
Allow the icing to set and then serve or, if you're patient enough, hang on the tree for later!