The new year is upon us and with it we welcome a whole new season of colour that will keep us going until spring. Getting out into the garden is a great way to beat the January blues and, despite the shorter days, being outdoors has a palpable and positive effect on our mental health. Brighten up your life with the exciting plants that this month has to offer and for more ideas, take a look at some of the must-do gardening jobs for January.
So, let's welcome in the new year by taking a look at some of the seasonal plants for colour in this January.
Chimonanthus praecox (Wintersweet)
Wintersweet is a deciduous shrub that is known for providing vibrant flowers during winter, when most flowers have died off. The sweetly scented flowers, which have delicate yellow outer tepals and a dark red inner tepals, are found in small groups on the otherwise bare branches. For the rest of the year, the branches are adorned with long green leaves that resemble spearheads and are perfect for adding winter interest to borders and low-maintenance beds.
Chimonanthus praecox is native to China and has been cultivated for over 1000 years. Due to the unique and popular fragrance, the oil sourced from the flowers is often used in cosmetics.
The oil is also used in Chinese medicine and is said to be a cure for ailments such as colds, rheumatoid pains, coughs, asthma and even the measles.
The flowers can be brewed and drank as an aromatic tea but, despite the medicinal properties of the flower, the seeds in contrast contain an alkaline poison known as Calycanthine which is highly toxic.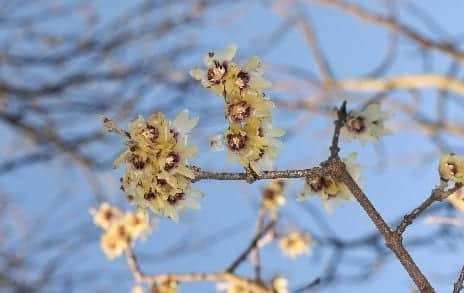 For the best results, grow in a well-drained soil in a sunny position that is sheltered from exposure. It is hardy throughout most of the UK and requires very little care, but apply a mulch during the summer months to reduce heat stress if necessary.
Iris unguicularis (Algerian iris)
Native to much of North Africa, Turkey and Greece, the Algerian iris is a vigorous evergreen that makes an exciting addition to winter gardens. Its fragrant flowers will bloom in winter amongst a base of narrow dark-green leaves and the flowers themselves are a delicate purple, often centred by a white and yellow feather-like frill. It works great as part of a courtyard or coastal garden and will thrive on banks and slopes or at the base of a wall.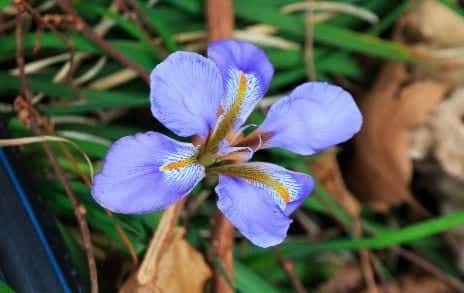 One curious cultivar of Iris unguicularis is named 'Mary Barnard' after the famous American poet, translator and biographer.
Her most famous piece is a translation of works by the archaic Greek poet Sappho, which was published in 1958 and has remained in print ever since.
The 'Mary Barnard' iris has gained the prestigious RHS Award of Garden Merit, a testament to the performance of the plant and a reflection on the career of the poet it is named after.
To ensure a strong and successful life, grow your iris in a well-drained rocky soil that is slightly alkaline. They will thrive in either an exposed or sheltered position, providing it has access to full sun and should be cut back after flowering is complete. Being a winter flowering plant, it is hardy throughout the UK and will cope with most weather conditions.
January would not be complete without the appearance of beautiful snowdrops, a seasonal favourite and an amazing sight in the depths of winter. Snowdrops have small white bell-shaped flowers that droop majestically above green pleated leaves. They grow from bulbs in the wild or can be found at most garden centres. Almost any type of garden can accommodate snowdrops, provided it's the right season.
Snowdrops weren't always a January feature, having previously been thought of as a plant that signalled the onset of spring.
It is for that reason that they were nicknamed 'the flower of hope' because the appearance of pure white flowers gave hope for spring in the final months of bleak winter.
Today, snowdrops flower from January to February, before other bulbs like daffodils and bluebells. It is not uncommon to find masses of them growing on the forest floor, making them a common sight on winter walks.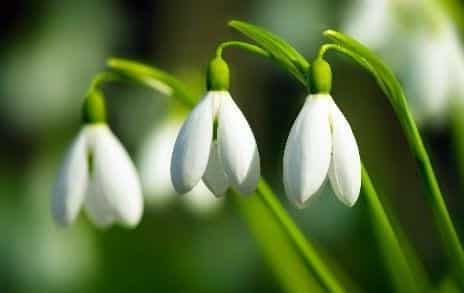 Plant snowdrop bulbs as soon as you can, because they are prone to drying out if left out of the ground for even a short amount of time. Grow in moist but well-drained soil that is hummus-rich and don't allow the soil to dry out. For the strongest growth, incorporate plenty of leaf mould into a partially shaded position.
Discover the magical world of winter birds in your garden:
Or check out my Pinterest board for more ideas: